Anvil Masters has been trading successfully for over 25 years. We offer a high quality metal fabrication design, repairs and property maintenance services to all domestic and commercial areas such as housing associations, borough councils, facilities services companies, social housing repair companies and similar organisations.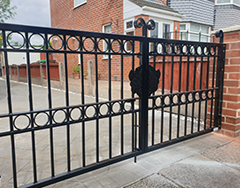 Our workshop is catered for all general wrought iron and steel fabrication requirements including: steel and polished stainless steel security doors, entry gates, automatic sliding and swinging drive way gates, stainless steel balustrades, steel balustrades and structural steel, as well as other metal products, such as shop fittings, signage and doors.
Metal Commercial Fencing & Gates
Security gating and fencing is a superb preventative solution that guards against intruder access, acts as a significant deterrent to crime, both small-scale and large, and helps major public installations combat attacks.

While the traditional problems of old, such as break-ins, vandalism, and robbery, undoubtedly still exist, they have been joined by a range of sophisticated modern threats, such as risks to infrastructure, data theft, identity fraud and contamination.

Security gates and fencing is a solution for the everyday and extraordinary: it protects residences from intrusion, security gates act as access control for major distribution networks and steel fencing encloses the perimeter of maximum security facilities. Whatever it is you need, security fencing delivers.

Security gates and fencing can help you protect the biggest things of all to the smallest and most inconspicuous; steel fencing can enclose a data chip containing lucrative information, for example, or security fencing can offer access control for a large commemorative memorial in a town centre. And those concerned about the reliability of security fencing can rest assured. The days of intimidating, outmoded fencing are gone. Anvil Masters security gating and fencing is sophisticated, versatile protection equipment for modern residences and facilities.
Residential? Commercial? Industrial or Council?
No problem, we have services that will exceed all your expectations. Our fabrication, stainless steel fabrication services are second to none, and we pride ourselves on delivering quality workmanship on every project.
Bespoke Design Service
We offer a no obligation free quotation for all our customers whether it is for a bespoke wrought iron metal fabrication or a simple window repair, domestic, commercial or industrial. We also offer a design service whereby our expertise and assistance can help turn your idea into a one-off bespoke piece.

High Standards
The consistently high levels of our service and the quality of our metal fabrication are the reason we are firm favourites in the industry: read our client feedback or find out more about the range of products and services we offer.
CALL TODAY ON 0161 336 3285 FOR NO A OBLIGATION QUOTATION, ADVICE AND FREE SITE SURVEY
---