All intercom systems and entry systems can be installed with any gates. Anvil Masters design engineer will discuss your access needs with you to ensure the most convenient system is installed with your automated gate.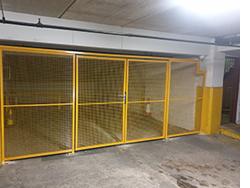 Hard Wired Systems
Our hard-wired access systems are expertly installed and can even be regularly checked and maintained by our installation and repairs technicians. Get a free quote today by completing our online contact form or by calling us on 0161 336 3285.

GSM
GSM, which stands for Global System for Mobile Communications is one of the most popular mobile systems for intercom and access control systems. They use mobile technology to control entry systems. Simple and effective. Get in touch with a member of our team to learn more about our GSM access systems.

Wi-Fi & Wireless
Our expertly trained team can install Wi-Fi and wireless access and intercom systems for your commercial property, allowing you and your staff to securely access your commercial premises. These intelligent systems are quick and easy to connect and install, easy to secure with options for access level configuration.

Magnetic Lock
We supply magnetic access control systems, suitable for commercial gates and premises. Magnetic locks use electrical current to engage the locking mechanism, creating a secure lock. The lock is operated by an access control device such as a keypad or card reader. Magnetic locks are one of the most commonly used by security engineers. Find out more by contacting our team.

Swipe Card
Ideal for restricted access areas, we also fit and install swipe card entry systems for commercial properties. Our swipe card access systems are flexible, easy to install and maintain and extremely cost effective. An easy means of controlling entry to your premises. Request a free quote for swipe card entry system installation today.

Video Entry
Video entry systems are useful for enabling businesses to see and hear visitors to their property. Using a built-in camera panel or CCTV integration, we can swiftly install your video access system. A great installation to help maintain the security of your commercial property. Contact us to find out more about our available video intercom and access systems.

Key Code Entry
Simple key code entry systems can be some of the most effective access systems. Offering great value for money and ease of maintenance. Ideal for a range of door access solutions. From office buildings to apartment complexes. We can install PIN entry systems or systems that can be operated by both PIN and fobs. Get in touch with our team to discuss your access security requirements.

Key Fob Entry
In addition to key code entry systems, we also supply key fob access control. Ideal for larger organisations needing to control entry to their buildings and premises. Our key fob access solutions are cost-effective for businesses and organisations of any size. Available with keypad entry as well as audio intercom. Learn more from a member of the Anvil Masters team today.

Automatic Loop Exit and Entry
Suitable for premises needing vehicle access controls, our state of the art automatic loop detector entry and exit systems offer superior security. Compatible with automatic gates, the automatic loop detector can be adjusted for detection range and sensitivity. This motion sensory access system is ideal, particularly for properties with vehicles coming in and out on a frequent basis.

Number Plate Recognition
We also offer automatic number plate recognition (ANPR) access control. Connected to a database storing information associated with the number plate, allowing vehicles to be categorised to allow certain vehicles free entry through the automatic gate. Offering superior standards of security, our ANPR automated entry systems are some of the most advanced on the market to date. Find out more and get a free quote from a member of our team.
CALL TODAY ON 0161 336 3285to speak with a member of our team about our commercial access systems.
---